Lamb Roast Catering Since 1999
Let your spit roast catering be the talking point of your event from weddings and private parties to corporate and charity events. The original lamb spit roast company uses free-range, local 'South Downs Lamb' to produce tender and flavoursome meat reminiscent of a bygone era.

South Downs Lamb addresses issues of animal welfare, agricultural sustainability and enjoyable food. Our local farmers are committed to offering you the best possible eating experience.

We marinade our lamb with rosemary and extra virgin olive oil and stud with garlic. The aroma whilst the lamb is roasting will set your taste buds alight.
Quality and Safety
Since introducing CE approved spit roasts to the UK in the early '90's, quality, safety and hygiene are the cornerstones of our business. As the leading spit roast lamb catering company in the UK we comply with all the latest food regulations. This includes the refrigeration of your meat prior to, and during transportation to your event. We operate a small fleet of refrigerated vans in line with current regulations and have just been awarded the highest mark 'excellent' by our local Food Hygiene Authority. The importance of proper refrigeration is paramount in the transportation of meat and is what sets us apart from our competitors.
Versatile Catering for all Occasions
The lamb spit roast is sufficiently versatile to be used indoors or outdoors, to suit your event. As well as whole 'South Downs Lamb' we can also provide lamb shanks and home-made lamb burgers for the BBQ.
Our company can offer alternative roasts of lamb or large joints of beef to meet the requirements of your particular function – corporate event, wedding or birthday party. Or why not consider wild boar, venison, turkey or chicken. We pride ourselves on meeting our clients individual needs to make their event special and truly memorable.
Our catering service in the UK goes far beyond the provision of spit roasts alone. We have a variety of delicious menus available to complement your choice of meat from salads and fresh seasonal vegetables to desserts and cheeses.

Exactly #whoissarahpage? watch this video https://youtu.be/3hjpeWXTQ9o and come back to read her incredible achievement against all the odds.
Sarah set off from Winchester to run 100 miles across southern England to raise money for CCHS which is short fo... read more
---
Catering & Hire Services
BBC Saturday Morning Kitchen TV Celebrity Chef James Martin working with head chef Peter Stuart
BBC Ready Steady Cook TV Celebrity Chef Brian Turner working with head chef Peter Stuart
Lamb-Roast & Catering News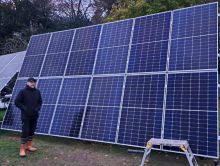 Our first Hampshire Rocker was designed and built to mitigate some of our carbon foot print. Twelve x 375w Aticnic monocrystaline solar panels in series multiplying to 600v DC to 1,000v surge protector. ...Read More
As we experience another hot summer our kitchen ambient temperature rises higher than the… As we experience another hot summer our kitchen ambient temperature rises higher than the outside temperature especially in the commercial kitchen environment. In this blog I'll explain what goes wrong with a fridge and why. Do you know what Refrigerator Climate Class is ? ...Read More
…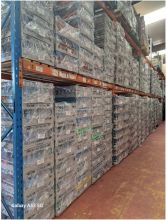 We are selling our entire stock of event glasses, crystal glasses, and glass racks from Nick at Caterbox and Fries Rack Systems. ...Read More
We have a large inventory of used catering equipment for sale from Government… We have a large inventory of used catering equipment for sale from Government or Educational facilities as a result of a kitchen refurbishments. Much of the equipment has been under a Service Agreement since new. If you are looking to buy expensive catering equipment at a fraction on the new price, you have come to the right place. ...Read More
All Christian Faversham Group News